Why choose Zyqual…
Unbeatable Efficiency
Looking for an unbeatable efficiency in managing teaching and learning? Look no further than Zyqual! Our unique system is designed to save you time and streamline the process of managing everything from lesson planning to progress monitoring. Our user-friendly platform is tailored to meet the specific needs of educators, providing seamless integration of all aspects of teaching and learning. With Zyqual, you can have peace of mind knowing that you are using the most efficient and effective system available, allowing you to focus on what truly matters – improving student outcomes. Choose Zyqual for unbeatable efficiency in managing teaching and learning.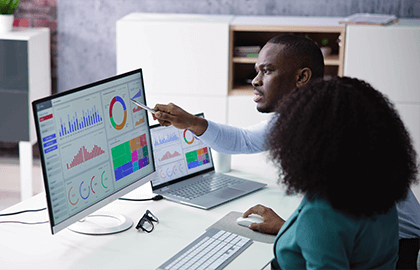 Tailored to Your Needs
At Zyqual, we understand that every school, department, and teacher is unique, which is why our platform is fully customizable to fit your specific needs. With the ability to create your own observation forms, track progress towards your individual development plan, and access a vast library of teaching strategies and resources, you can tailor Zyqual to fit your specific context.
Insightful Analytics
Our platform provides detailed analytics and reports that offer insights into the strengths and weaknesses of your teaching practice and student performance. With our SWOT analysis and student individualized education plan, you can gain a deeper understanding of your students' individual needs and tailor your teaching approach to better support them.
Effortless Collaboration
Collaboration is key to successful teaching and learning, and with Zyqual, collaboration has never been easier. Our platform allows for seamless collaboration between teachers, departments, and schools, enabling you to share best practices, lesson plans, and resources to improve teaching and learning outcomes for all students.
Zyqual is at the forefront of educational technology, harnessing the power of artificial intelligence to further enhance teaching and learning outcomes. With AI-powered recommendations for teaching strategies, personalized professional development plans, and student progress tracking, you can leverage cutting-edge technology to improve your teaching practice and student outcomes.
Zyqual is an innovative, efficient, and customizable platform that empowers teachers to improve their teaching practice, support student learning, and achieve better outcomes. With the ability to access data in real-time, collaborate seamlessly, and leverage the latest in educational technology, Zyqual is the key to success for schools, departments, and teachers looking to achieve excellence.